Pollination, Not Police Nation: MPD150 Continues Planting Seeds of Abolition
Minneapolis collective MPD150—known for its publication of a groundbreaking people's performance review of the Minneapolis Police Department at 150 years—is inviting community members and their organizations to help plant the seeds of a police-free future. Literally. This fall, the group will distribute seed packets that hold a story of cultural and political change. At a time when the cycle of ineffective police reforms is in full swing, the spread of wild lupine flowers throughout the Twin Cities will be a reminder that another world is possible.
"We chose the wild lupine," explains MPD150 member Nikki, "because it captures in so well the message of true social change that police abolition represents." They hastened to add that these are the native perennial lupinus perennis (not the invasive lupinus polyphyllus you may have read about).  In addition to its beautiful purple flowers, wild lupines help tell a story, one that may be familiar to our friends and neighbors in Minneapolis:
First Responder:

Lupines establish themselves quickly after natural disturbances and disasters, contributing to the recovery of the soil and establishment of a thriving and diverse ecosystem.

Restorer:

A nitrogen-fixing plant, lupines enrich the soil, encouraging new growth.

Protector:

Lupines provide safety for plants and other wildlife against the fast-spreading, invasive knapweed, by releasing protective chemicals into the soil.

Pollinator:

Lupines support many pollinators such as butterflies, hummingbirds and songbirds, and is the sole sustainer of the endangered Karner Blue butterfly.
Creating a different future starts small. For those of us who believe in justice, not vengeance; who believe in prevention, not punishment—there is no single action, campaign, or policy that will magically replace prisons and police with the life-affirming institutions we need for real, ongoing community health and safety. It's going to take (in the words of Mariame Kaba) "a million experiments." It's going to take neighbors working together, continuing to organize for divestment from a failed, one-size-fits-all model of policing and investment in the soil of our communities: in housing, child care, health care, and beyond. 
It's going to take more than a symbolic flower to bring real change. But stories and symbols matter. Just as a seed—with nutrients, with light, and with care—can grow into something much larger, our stories contain futures we can't yet see… but can start to envision. Over the next few years, as we continue to resist and chip away the power of police, prisons, and punishment, we hope these small bursts of purple will proliferate in our yards, boulevards empty lots and other public spaces, to remind us that our future is one of both critique and imagination, both tearing down and building up, both disruption and cultivation. 
Every packet will contain planting instructions, perennial lupine seeds, and the story of the wild lupine as an abolitionist plant. How to get one: As you may have heard, MPD150 has sunset, but packets should still be available at a few local businesses (though availability may vary as they get picked up): Asa's Bakery, b.Resale, Moon Palace Books, and RLM Arts.
~~~
Planting Notes
Best Conditions: The Wild Lupine is a versatile perennial plant. It prefers full sunlight and average soils, but will tolerate sandy, dry soil. It thrives in cool, moist locations. Plants grown from seed will bloom their first year.
Propagation: Lupines spread from seeds and also send new flower stalks up from their long taproots. They produce dozens of pea-like seeds per plant, which disperse when the pods pop open in late July or early August. You can support their spread by scattering seeds in new areas. Lupines are eager to grow. They can also be planted in late fall or spring. To winter sow, simply scatter them on the ground in late fall or early winter. Then, wait for the snow to cover the seeds and provide insulation from the cold.
Seed Prep: Lupines naturally spread in places that have experienced disturbances such as fires, landslides, freezes or storms. That means the seeds germinate best when they are treated in a way that signals there's been a disturbance. This can include "scarifying:' That is scratching the surface of the seeds by hand, by rubbing them between sandpaper or shaking them in a bag with gravel. Freezing the seeds is another way to encourage sprouting. Please note, seeds are for planting only and are not healthy to eat.
Locations: Lupines can be scattered in lawns, gardens and boulevards that you control as well as along roadsides, in parks and open lots, along railroad or light rail tracks, around schools and businesses, in public planters and around police stations. We bet you can come up with some great ideas! Be sure to take pictures once they begin to bloom; share them with the hashtag #PollinationNotPoliceNation.
~~~
About MPD150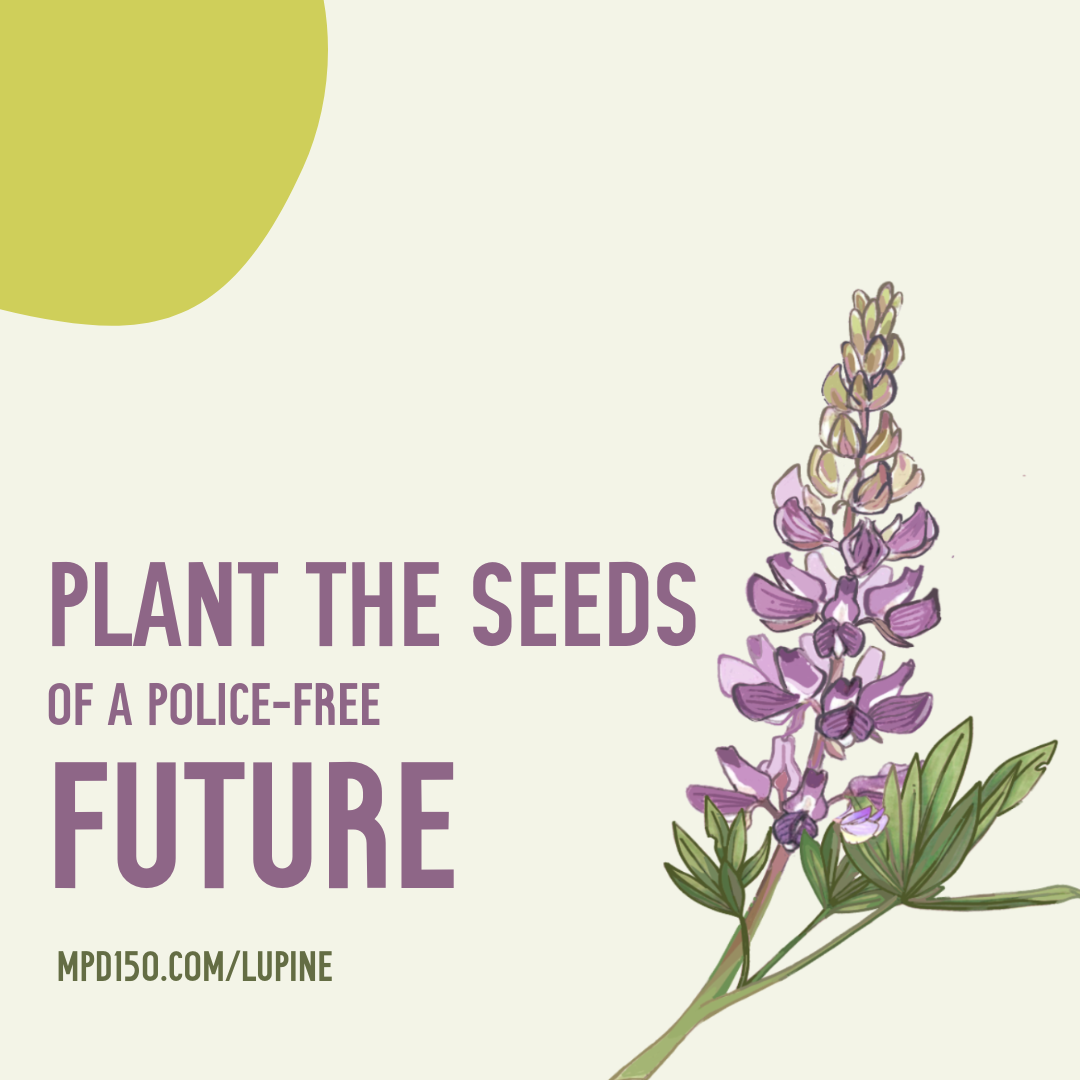 In 2017, on the 150th anniversary of the Minneapolis Police Department, a group of activists, artists, and community members known as MPD150 produced a people's history and performance evaluation of the MPD based on historical research and interviews with community members. That report, "Enough Is Enough," was expanded in 2020 to include new writing, resources for abolitionists, discussion prompts, poetry, visual art, and more, and continues to be available for free.
While MPD150's report and other materials will continue to be available, the collective itself has sunset. The group's mission was always narrative—telling a different story about community safety, punishment, and prevention—while on-the-ground organizing work is carried out by other organizations and initiatives. The need to push for real change, not cosmetic reforms, will not go away, however. These hard-working flowers—that tell a story while making a real difference—can remind us how it's done.