MPD150:
working towards a police free Minneapolis
MPD150 is a participatory, horizontally-organized effort by local organizers, researchers, artists and activists. It is not the project of any organization. We stand on the shoulders of the work that many organizations have been doing for years and welcome the support of everyone who agrees with our approach. We hope that the process we are developing will help organizers in other cities to establish practical abolitionist strategies.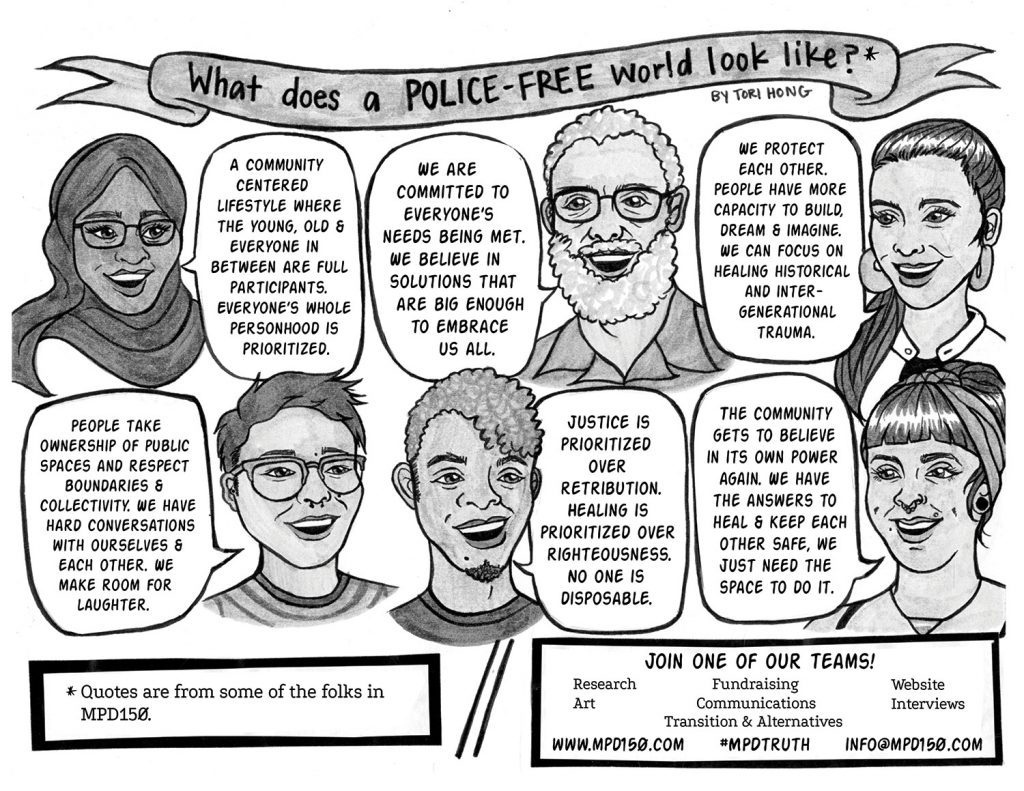 Summary:
The goal of this initiative is to shift the discussion of police violence in Minneapolis from one of procedural reforms to one of meaningful structural change. We will achieve this by presenting a practical pathway for the dismantling of the Minneapolis Police Department; the transference of its social service functions to community-based agencies and organizations; the replacement of its emergency intervention functions with models not based on military methods; and the redirection of resources to support community resilience and people-directed development.
Opportunity:
The MPD was established in 1867, two years after the end of the Civil War and five years after the Dakota Conflict. 2017 therefore, marked the 150th anniversary of its founding. This presents an opportunity to review its performance during the fifteen decades of its existence and decide, as a community, whether its contract should be extended. Our position is that it emphatically should not. We presented our case – as well as alternatives, transitional steps and action plan – in the form of a community report that was released in 2017. Artistic and cultural work was coupled with this work, including a 2018 art exhibit based on the report. will be ramped up in preparation for the public release and its aftermath.
Cultural impact:
This initiative is intended to transform the way policing, crime and safety are understood in Minneapolis. By producing a performance review at the MPD's 150-year mark, we can offer alternative strategies to the failed reforms that are routinely trotted out in response to protest and then methodically sabotaged, undermined and reversed by an alliance of police leadership, unions and rank and file. Far from being a naive concept, police abolition is the only viable option for ending the systematic and unrelenting abuse of our communities. What is truly naive is to imagine that the police system – established in the wake of emancipation to defend racist power relations – can be re-purposed as a community-friendly, non-racist entity devoted to the safety and wellbeing of everyone. The staying power of that illusion stems from the difficulty people have envisioning real alternatives. We intend to change that.
Concept:
The strategic concept of MPD150 is an integrated approach to the MPD and its relationship with the communities it polices encompassing its past, present and future. We are organized into working teams to address these and other areas.
The past. Our research team has been developing a rear-view outline of US police history with special attention to how it has played out in Minneapolis. This includes identifying and describing its core functions over time; its relationship to the local (and, more recently, national security) power structures; its history in poor communities, indigenous communities, and communities of color; its record in the face of political protest; its methods for preventing reform; and the timing and reasons for police absorption of social service functions and track record performing them.
The present. The interview team has been interviewing front-line workers in the fields of mental health, education, emergency services, domestic violence, youth engagement programs and crime prevention to learn how their work is impacted by the paramilitary intervention of the police at points of crisis. This material is supplemented by other community-based interview work being shared with us that centers neighborhood residents and their experiences with the police.
The future. The interviewees also share their perspectives on what effective crisis intervention and service provision could look like without police interference – in order to generate specific proposals for a police-free future in each of these areas.
Devolution. The transition to a police-free Minneapolis will require immediate measures to limit the harm routinely inflicted by the police in their normal functioning and steps to address the underlying causes of distress. First responder responsibility and on-site authority in crisis situations, public spaces and schools will be transferred to parties prepared to interact sympathetically and respectfully with the people. Social service functions will be relocated in community-based settings. Military equipment will be sequestered. The police are tasked with enforcing austerity – the extraction of resources and resilience from communities for the benefit of the rich – and controlling people's attempts to survive, resist or self-medicate under its impact. Dismantling the police will require reallocating their budget and assets to support real solutions to community desperation: good, well-paying jobs, affordable housing, healthy food, empowering education, accessible health care, removal of toxins, etc. Ending the brutal police system is, by necessity, a program for a more just and resilient city.