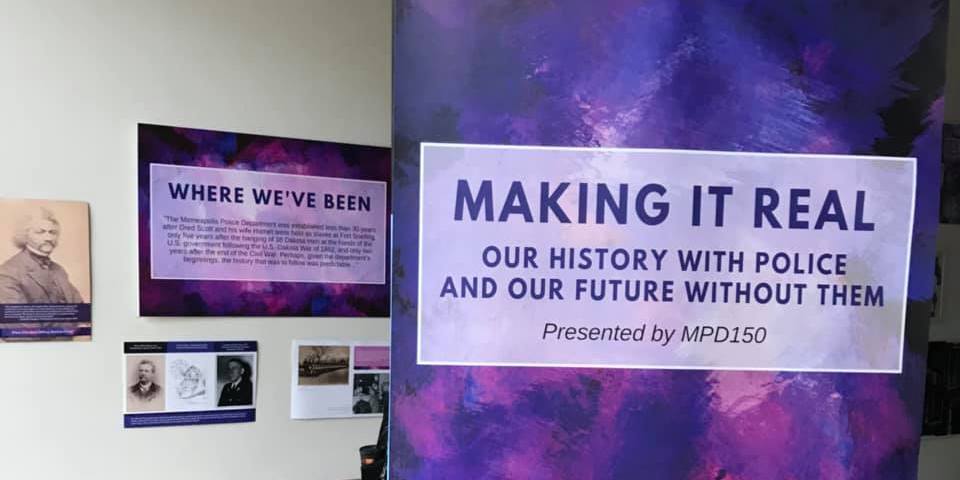 NOTE: This post is from 2018, but we're leaving it up here both as a record of that time, and because many of the organizations listed below are still active, and still worth looking into for people who want to get involved.
For three weeks, the "Making It Real: Our History with Police and Our Future Without Them" exhibit filled the walls of North Minneapolis' New Rules space. The exhibit featured work from local artists commissioned to bring MPD150's 2017 report, "Enough is Enough: A 150-Year Performance Review of the Minneapolis Police Department" to life, creating a space in which people could both walk through representations of the past while also imagining what the future might hold.
Post Exhibit Notes & Resources
The exhibit kicked off with a standing-room only opening (featuring a panel discussion with Devika Ghai, D.A. Bullock, Roxxanne O'Brien, and moderator Juliana Hu Pegues), which was followed by an open mic featuring work responding to the promise and possibility of a police-free future (hosted by Tish Jones and SEE MORE PERSPECTIVE). On the final day of the exhibit, community members came together to have a conversation about what comes next. What resources do we already have? What work is already being done? What work remains?
What follows are the notes from that conversation, along with some links and resources for people looking to get involved and continue this vital work.
What We Have: Organizations and Resources
At the closing conversation, members of various MN-based campaigns, activist organizations, and collectives shared some of what they're working on. Of course, this only represents groups who were able to show up to this space and talk about what they're working on (plus a few shout outs). But hopefully it can be a good starting point for people looking to get involved.
Reclaim The Block: a community coalition representing activists, organizers, faith and community leaders united by the demand that Minneapolis divest from pol

icing and invest in long-term alternatives that would decrease the scope of MPD and promote healthier, safer, more diverse communities.

Black Visions: Black Visions Collective (BLVC) believes in a future where all Black people have autonomy, safety is community-led, and we are in the right relationship within our ecosystems.
Twin Cities Transit Riders' Union:

Empowering transit riders in the Twin Cities area to fight for a robust and reliable transit system (includes working on issues related to transit police abuses and beyond).

Communities United Against Police Brutality

is a Twin-Cities based organization that was created to deal with police brutality on an ongoing basis. We work on the day-to-day abuses as well as taking on the more extreme cases. Our overriding goal is to create a climate of resistance to abuse of authority by police organizations and to empower local people with a structure that can take on police brutality and actually bring it to an end. We provide support for survivors of police brutality and families of victims so they can reclaim their dignity and join the struggle to end police brutality.

Voices for Racial Justice:

Working with communities of color and American Indian communities to lead the way toward a more inclusive and equitable Minnesota (including organizer trainings, prisoner justice, and beyond).

Parks & Power:

The Parks and Power Campaign is dedicated to grassroots community organizing for racial equity & justice in Minneapolis' parks system (includes working on issues related to the Park police)

Young People's Action Coalition:

Young Peoples Action Coalition is dedicated to organizing high school students in movements for justice (includes work around School Resource Officers and beyond).

MN Women's Press:

Minnesota Women's Press LLC is an independent, fact-based online and print magazine that amplifies the collective and individual voices of powerful, everyday women. Now under new ownership, MN Women's Press is looking to publish women's stories, including those stories that relate to issues of policing.

Voices for Environmental Justice:

Members of this group talked about while looking to create a new Environmental Justice major at the University of MN, they're also interested in exploring how policing issues, and social justice issues more broadly, intersect with environmental justice work.

Honor the Earth:

Our mission is to create awareness and support for Native environmental issues and to develop needed financial and political resources for the survival of sustainable Native communities.

Nexus Community Partners:

Nexus supports strong, equitable and just communities in which all residents are engaged, are recognized as leaders and have pathways to opportunities. The key to building more engaged and powerful communities of color lies in the connections between authorship, leadership and ownership.

Network of Politicized Adoptees:

NPA's mission is to strengthen, cultivate, and improve the lives of adoptees by building community power. Through solution-focused action, we advance adoptee justice by telling our own stories and collectively working towards systemic change within adoption.

For Us by Us (BIPOC FTW):

"For Us" brings together BIPOC+ FTWs around food, bikes, and activities that strengthen our community. The space we create are not for those who benefit from cis male privilege. If you have light-skinned or white privilege and you perpetuate anti-Blackness and colorism, this is not the space for you.

And Many More!

We know there are other organizations working on planting the seeds of a police-free future (whether explicitly or implicitly). We'd also encourage people to check out some past-and-present organizations:
In terms of more general "resources," we'd definitely encourage people to check out the list of readings, links, and resources here.
What We Need: Next Steps and Beyond
For the next part of the conversation, we opened it up for people to talk about what they'd like to see. Our community is full of amazing resources and organizations doing vital work, but are there areas in which something is missing? Or potential projects people could take on? Here's what we discussed:
Other People to Call Besides 911:

When we witness violence, are in emergency situations, or even in less life-or-death situations like minor car accidents, we need to be able to call on people besides police (who can often make situations more, rather than less, dangerous). A few notes:

Some of this can be formal (like setting up a central switchboard crisis number that can route calls to the appropriate helpers), and some can be informal (like networks of neighbors who agree to be resources for one another when problems arise).

Especially for domestic violence, other forms of interpersonal violence that we may not feel safe to intervene or equipped to handle.

One potential model: Critical Resistance's

Oakland Power Projects

Funding for existing alternatives:

There are non-police organizations doing good work, but they're often struggling for funding. We can work both inside and outside traditional funding structures to sustain them.

Prevention resources:

For example, we need alternatives when it comes to dealing with domestic abuse, sexual assault, and other forms of gender violence, but we also need to be investing in preventative programs that can stop those problems before they occur. The same could relate to street violence, drugs, and a range of other issues.

Building stronger community networks

: One quote from the discussion was "I know all the parents, and the kids, on this block– that's safety." Some of these networks already exist; others can be built and/or strengthened via the everyday work of getting to know our neighbors, so that we have other people to call on when problems arise.

Resisting gentrification

and seeking housing justice so some of that "know your neighbors" work can actually happen in a sustainable way.

Transformative justice models

that (1) work and (2) don't burn people out.

Building capacity:

from first aid trainings, to conflict resolution skills, to know-your-rights workshops and more: the more opportunities we have to sharpen our own skills, the less we have to rely on police.

Policy work

that can minimize the role of police; a recent example is Minneapolis deciding whether authority over the police department should rest with the mayor alone, or with the mayor and the city council. A range of other policy points related to funding, accountability (to the extent that "accountability" can exist), and beyond could be part of this conversation.

Rethink insurance:

In cases of car accidents or theft, where police are often set up as the "authorities" who report and decide the truth, a larger re-thinking of the concept of insurance as a community pool of resources.

More POC therapists,

more access to mental health resources, and the de-stigmatization of mental illness across communities.

Apply the MPD150 report approach to other cities and communities.

Whether this means getting in touch with us about how this project came about, and then replicating that in your city, or creating a smaller, city-specific, insert-style document that can exist alongside the larger findings of our report, there's a lot of room for possibility here.

A larger call to continue challenging the narrative. That's what the MPD150 project is all about, and that work is never done. We can continue to start conversations, post on social media, develop curriculum, create art, develop media strategies, and do everything we can to challenge the dominant narrative that police are an inevitable, necessary, unchangeable part of our society. By knowing the history, and becoming more aware of what alternatives already exist, we can shift the culture and create room for effective, sustainable policy work.
There's always more, but those are the main things that our conversation touched on. Some of the groups in the previous section are already working on some of the points in this one; other points may need people to start organizing around. But nothing here is utopian, science-fiction stuff. These are practical, realistic things that our community can build toward. Thank you for being part of that.
THANK YOU to all of the artists, sponsors, participants, and community members who made this possible.