We hold general meetings every two weeks to check in with working groups, introduce new members to the group, and talk about overall group direction. We organize into semi-autonomous working groups in order to carry out tasks approved by the core and larger group.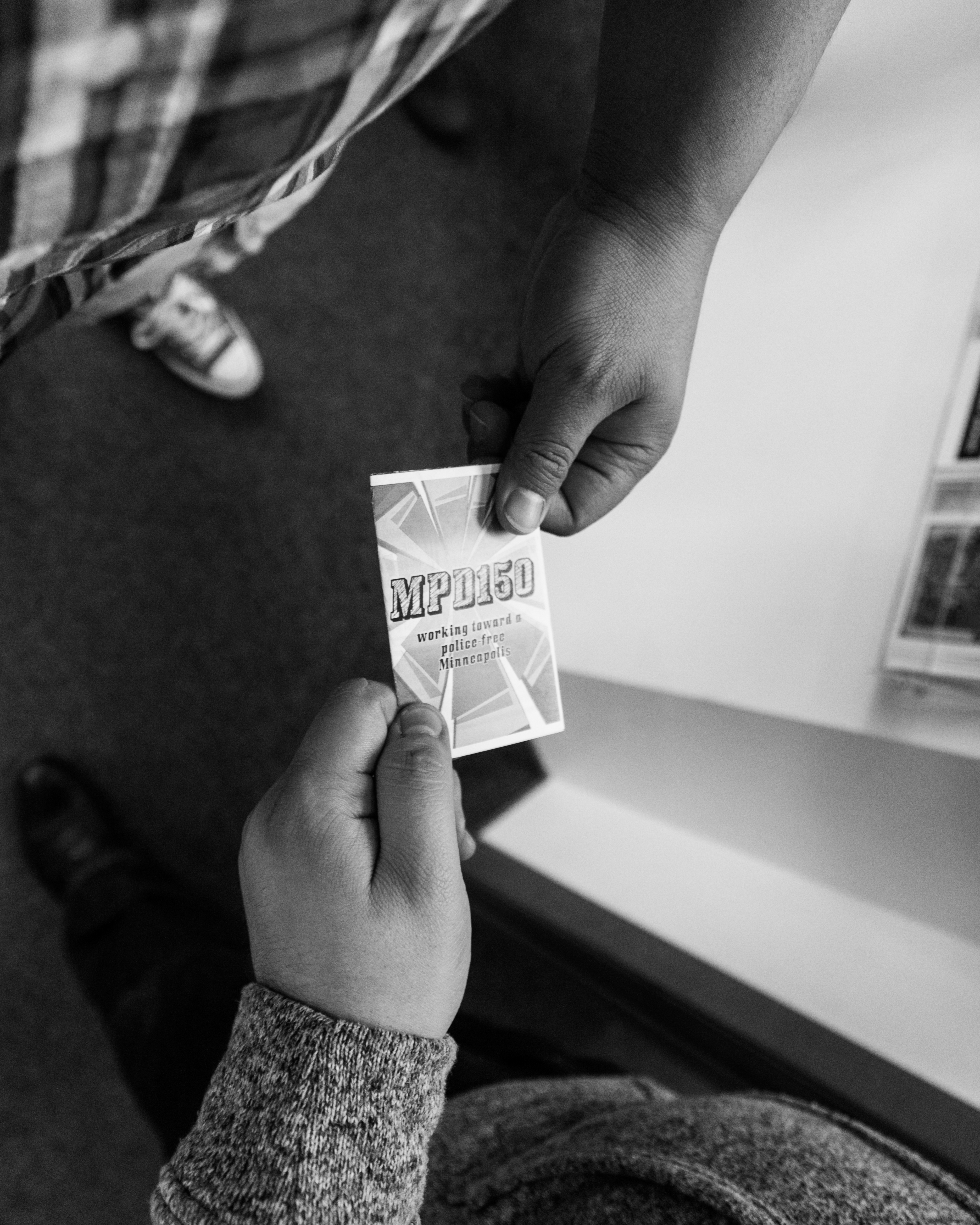 Art
Art can unchain the imagination to envision a better tomorrow. Art can speak suppressed truths that the spirit recognizes are true. Art can remind the heart of the oppressed that we are not alone. The goal of MPD150 is to transform how people think about and talk about the past, the present and the (non) future of the police. We hope to inspire creative artistic expression of all kinds to help open a pathway in our people's minds toward the police-free future which is the only viable future.
---
MPD150 Museum Exhibit
We received a grant from Headwaters Foundation for Justice to create a public exhibition advocating for alternatives to policing.  This committee is working on visioning and creating this exhibition during 2018.
Alternatives
The alternatives team at MPD150 is focused investigating potential alternatives for a future without police. Though we're primarily focusing on the Minneapolis Police Department, we're also looking at police and police abolition movements worldwide. We're looking for volunteers who are detail-oriented and curious!
---
Education and Dissemination
In November 2017, we released our report "Enough is Enough" on our website and in print.  This committee is dedicated to developing and spreading educational resources to promote police abolition.
Fundraising
The fundraising team raises money for MPD150 in order to pursue a police-free world. Funds go towards creating our police abolition tool kit, creating ways of sharing our tools, creating a public exhibition, paying organizational expenses (printing, space rental, etc), and launching art initiatives.
---
Social Media / Communications
The communications team works on messaging MPD150's work to the public including working to create a social media presence and strategy, creating flyers, and may assist in tasks like writing press releases, etc. Communications may create some content, but mostly focuses on using existing content.
Website
The website working group has need for designers, developers, and people interested in creating blog posts to add to our website.
What working group would you like to get involved in?
If you are already signed up for our mailing list, you can use this form to get a link to update what working groups you would like to be involved in.