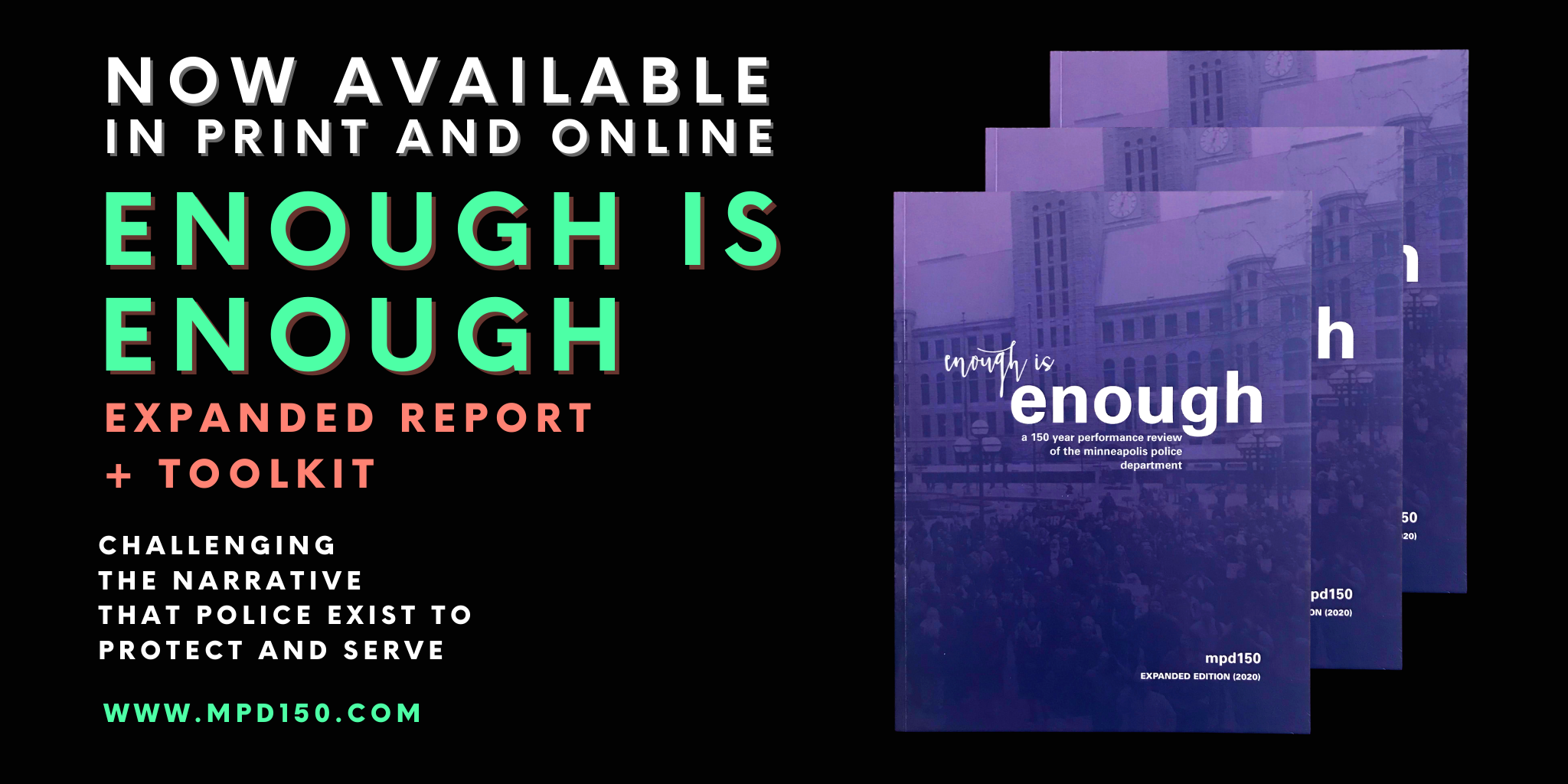 The expanded "remix" of MPD150's "Enough Is Enough: A 150-Year Performance Review of the Minneapolis Police Department" report is available now! The report has gone from 35 pages to 140, including the original history/community performance review of MPD, plus handouts, zines, comics, educator tools, poetry, an oral history of the project, and more; it's meant to be a toolkit for people, both here in Minneapolis and beyond, to keep the abolitionist momentum going, and to keep building.
Download as PDF (compressed: smaller file, lower quality)
Download as PDF (uncompressed: larger file, higher quality)
FOR PHYSICAL COPIES:
"Enough Is Enough" is also available as a beautiful, magazine-style booklet, which is also free. While MPD150 is sunsetting as an collective and won't have the capacity to mail individual copies out, there are still options to get it:
If you're in the Twin Cities, you should be able to pick up a free copy from RLM Arts during the normal pickup hours listed on their website. Generally, Moon Palace Books, Boneshaker Books, and b.Resale should have copies as well, but as time goes on, you may want to check with them before making a trip.
If you would like a bulk order (25 copies or more), please email info@MPD150.com.
A few related resources:
Finally, a note of thanks to all of the volunteers, researchers, writers, artists, designers, editors, activists, box-movers, friends, and allies who made this possible. MPD150 was, and is, very much a community effort. If you appreciate our work, we hope you will also get plugged in with Black Visions and Reclaim the Block here in Minneapolis, who are continuing that work.